---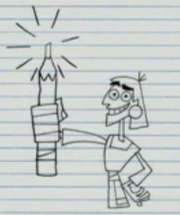 Kuzco's Doodles are types of scribbles on it Kuzco is in the programs. He usually does it when he has a plan, wants to cut out the "boring" parts of the plot, or is in a discussion against Malina and wants to beat her, among other things. Malina and Kronk have a few as well sometimes. Though Malina's are cute anime chibi like doodles while Kronk's are more realistic. In Oops All Doodles, Yzma and Pacha also use doodles, with Yzma drawing resembling Tim Burtonesque-style drawing, while Pacha drawing in a seemingly traditional Japanese ink picture. Guaka once did doodles but revealed he was horrible at drawing.
P.S. In my journal of my thoughts and ideas it's the OZ Kid Doodles a pardody of Kuzco's Doodles.
Ad blocker interference detected!
Wikia is a free-to-use site that makes money from advertising. We have a modified experience for viewers using ad blockers

Wikia is not accessible if you've made further modifications. Remove the custom ad blocker rule(s) and the page will load as expected.