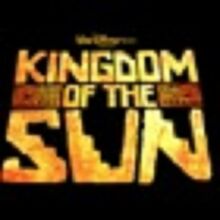 Kingdom of the Sun is the alternate working title of The Emperor's New Groove. It was to have been a tale of a greedy, selfish emperor (voiced by David Spade) who finds a peasant (voiced by Owen Wilson) who looks just like him; the emperor swaps places with the peasant for fun, much as in author Mark Twain's archetypal novel The Prince and the Pauper. However, the evil witch Yzma has plans to summon the evil god Supai and capture the sun so that she may retain her youth forever (the sun gives her wrinkles, so she surmises that living in a world of darkness would prevent her from wrinkling). Discovering the switch between the prince and the peasant, Yzma turns the real emperor into a llama and threatens to reveal the pauper's identity unless he obeys her. The emperor-llama learns humility in his new form, and even comes to love a female llama-herder named Mata (voiced by Laura Prepon). Together, the girl and the llama set out to undo the witch's plans. This explains the existence of Yzma's deleted song, Snuff out the Light.
Concept Posters
Ad blocker interference detected!
Wikia is a free-to-use site that makes money from advertising. We have a modified experience for viewers using ad blockers

Wikia is not accessible if you've made further modifications. Remove the custom ad blocker rule(s) and the page will load as expected.