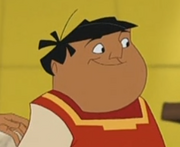 Guaca
(sometimes spelled "Guaka") is a character from the television series
The Emperor's New School
. He is a student of
Kuzco Academy
and a friend of
Kuzco
. He is voiced by 
Jason Earles
 and 
Gabriel Iglesias
.
Personality
Guaca is obsessed with Kuzco. He is very loyal to Kuzco, and will do anything he tells him to. He also tries to impress Kuzco and become closer to him. Guaca is very kind and likes to help others as shown in the episode "Overachievers Club" where he he was raising charity to buy a fountain for senior citizens. Guaca also has a crush on Malina, but wouldn't ask her out because he is too loyal to Kuzco.
Trivia
Guaca's first appearance was in episode one, but he had no lines. He has made numerous cameo appearances in season one until his name was revealed in the episode "Monster Marquerade".  
Guaca's father wanted him to be an artist.
Guaca's father is Irish.
Guaca was called "ugly girl" by Yzma and Urkon, the village leader.
Guaca became the emperor.
Quotes
"Kuzco rules!" (Said in almost every episode)
"This song's about Kuzco/And here's the big news-co/if I ever had to choose-co/I'd always choose Kuzco!" (Tryout song from The Emperor's New Musical)
"Good one, Sir!" (said whenever Kuzco makes a joke)